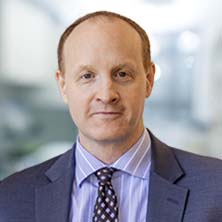 John Binder
President
Commercial Lines & Executive Risk Division
John is President of Crum & Forster's Commercial Lines Division. In this role, John leads multiple industry-focused units offering coverage for all lines and insurance related services that provide a one-stop solution. He has over 20 years of experience in admitted commercial insurance, including positions at St. Paul Companies, TIG, Republic Group and Travelers.
John holds a BBA in Actuarial Science from the University of Wisconsin and is a Fellow of the Casualty Actuarial Society.
Thomas Bredahl
President
Surplus & Specialty Division
Tom leads the E&S business for Crum & Forster. He also is responsible for their small business unit and their primary admitted construction book.
Tom joined First Mercury/CoverXSpecialty as chief underwriting officer from OdysseyRe, where he focused on U.S. casualty risks. He began his underwriting career at Constitution Re and later joined TIG Insurance, which was acquired by Fairfax in 1999.
Tom holds CPCU and ARe designations. He is a graduate of Middlebury College and has completed additional programs at Wharton and St. John's University's School of Risk Management.
Steve Fomchenko
President
Property Division
Steve leads the Property division at Crum & Forster, which includes E&S Property, Property Programs, Inland Marine and Crisis Management. He joined Crum & Forster in 2012 as the Senior Vice President of Property and Inland Marine and has held multiple management positions throughout his career at C&F.
Steve has over 25 years of leadership experience underwriting commercial property risks in various market segments. He started his career working for Factory Mutual and Allendale Insurance in multiple engineering and underwriting roles. His career then took him to XL insurance where he ultimately became the Chief Property Underwriter of the Americas. After 10 years at XL, Steve joined Torus where he built a Global General Property start up with offices in the U.S., London and Zurich.
Steve is a graduate of New Jersey Institute of Technology where he received a Bachelor of Science in Electrical Engineering and a Master of Science in Management Engineering.
Matthew Lubin
President
Surety Division
Matt joined Crum & Forster in September 2021 as head of our Surety Division and is responsible for managing and growing the division's diversified surety portfolio, which includes an established book of Commercial Surety, Contract Surety and Bail Bond business. Crum & Forster is a top-10 Surety writer in the U.S.
Matt came to C&F following a 34-year career at Chubb Limited, where he most recently served for five years as Executive Vice President & Head of Contract Surety responsible for the leadership and oversight of the insurer's North American construction surety portfolio.
Previously, he was Chief Underwriting Officer for Chubb's Global Surety practice, which encompassed contract, commercial and international surety business. He also formerly held other contract and commercial surety positions at Chubb, expanding customer relationships and building business profitably.
Matt received a B.A. in economics from Rutgers College, Rutgers University, in New Brunswick, N.J.
Gary McGeddy
President
Accident & Health Division
Gary leads Crum & Forster's Accident & Health division, which offers a wide variety of niche accident and health insurance and reinsurance products both domestic and international. Some of the many programs include overseas travel for students, employer stop loss programs for self-funded employee health plans, and pet insurance through Hartville Pet Insurance Group.
He started his career as an underwriter with AIG, before moving on to Reliance National as a senior underwriter. His career then took him to Swiss Re as an underwriting manager, and then to Legion Insurance as vice president. He joined Fairmont Specialty in 2000.
Gary graduated with a B.A. in finance from the Richard Stockton College of New Jersey, and an M.B.A. in business administration, management and operations from Monmouth University.
Daniel Sussman
President
Credit Division
Dan leads our Credit Division, which specializes in credit insurance, alternative risk solutions and other niche products.
Previously, Dan had been with Ironshore Inc. for nine years, where he founded and served as President of Ironshore's Global Credit and Political Risks unit, overseeing underwriting teams in the U.S., London, Dubai, Singapore and Sydney.
He also formerly held executive and leadership positions at XL Capital Ltd., responsible for credit products, alternative risk transfer specialty products and funding solutions. Prior to XL, he was in private law practice in New York at Clifford Chance and Wachtell, Lipton, Rosen & Katz.
Dan earned his B.A. from Harvard College, his J.D. from the University of Pennsylvania School of Law, his M.A. in Public Policy from the The Wharton School of the University of Pennsylvania and his BCL from Oxford University.